Elvis Presley Death - Chapter 1

Elvis Presley Death Shocks World August 16, 1977
"None of us at the radio station expected this day to mark the end of an era in music."-Michael O'Conner, Program Director, KYA 1260AM.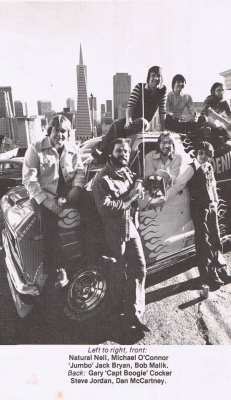 KYA studios perched high atop Nob Hill inside San Francisco's Mark Hopkins are rockin' to the sounds of Thelma Houston's Don't Leave Me This Way. I've just finished my air shift and am now relaxed in my office with a mug of coffee.
Down the hall teletype machines clack out wire copy. Suddenly, bulletin bells are clanging. My hotline is blinking red. The news director interrupts the music with a flash.
Elvis Presley is dead! What! The King of Rock and Roll gone?

From that second until Presley's funeral, we save every inch of tape capturing the tears, stories and emotional reactions of family, friends and fans.
Click below to hear vintage radio coverage, rare interviews and live on-the-scene reports from those three days in August 1977 as we covered Elvis Presley's Death
Click and continue to Chapter 2 for on-the-scene reporting from Graceland.
Special Note: At Elvis Death Revisited.com the radio news reports and interviews you hear are just as we aired them those three days in August 1977. What you are listening to is what was actually broadcast as the media reacted to the death of Elvis Presley. The news reports from radio and television interviews with friends, fans and officials tell the story of how Elvis Presley died and the worldwide reaction to the death of the King of Rock. In the years since their airing, the facts and information surrounding Elvis' death may have changed. What you are listening to is what we knew at the time of Elvis Presley death.

Your Direct Connection to updates about Elvis events, products and services. Subscribe here for updates.
Elvis Presley Death, Hear rare interviews with friends and fans reacting to Presley's death broadcast August 16,1977 Elvis Death Revisited
How did Elvis Presley Die? Listen to live on-the-scene report from the hospital press conference covering Presley's cause of death. August 1977
Elvis Presley Autopsy Report. See the original document. Listen to hospital news conference reviewing Elvis autopsy report
Elvis Death. Hear rare broadcasts. Watch news videos. Hear mourning fans in rare on-the-street interviews react to Presley's death broadcast August 1977.
Elvis Presley Biography, Listen to rare interviews as friends tell their Elvis stories. Vintage radio coverage from August 1977 as it happened.
Elvis Presley History, Hear vintage interview with young Elvis talking about his fears of success just as he's becoming famous. Elvis Death Revisited.
Elvis Biography, Elvis Biography, Listen to rare interviews with friends who tell about Elvis' failing health and how he looked when they last saw him. August 1977
Elvis Funeral, Hear vintage radio reports from the scene as fans view Elvis lying in state at Graceland. Listen to live radio coverage from August 1977
Elvis Presley Funeral, Listen to live reports from Graceland aired August 18, 1977 as we covered the death of Elvis.
Elvis Presley Videos, Watch the New Elvis videos added today. We are reviewing thousands and adding the best each day.
History of Elvis Graceland.See rare 8mm movies of graceland 1940's before Elvis Graceland.Meet Ruth Cobb 82, the only child to grow up in Graceland
Graceland Tours, Tips on touring Graceland. What to expect on your graceland tour.
Best of Elvis Presley Photos, the early years in black and white, Elvis Pictures
See the new Elvis Fan Clubs and Presley Links which have just been added.
Global Income Opportunity. Generate residual income working from home. World-class support team and training
Choose from a wide variety of Elvis Costumes, wigs, sunglasses,sideburns and more. Elvis Halloween Costume
Shop for thousands of Elvis memorabilia, elvis collectables
Choose from Hundreds of Elvis Presley Posters, collectables, Elvis memorabilia
Choose from over 350 Elvis T Shirts, Elvis Presley Shirts for Women, Men, Children
Contact us with your comments about what you heard at Elvis Death Revisited.com
Privacy Policy, Elvis Death Revisited
Would you like to share your knowledge about elvis presley death? Great, find out how you can submit your story or tip here.