Chapter 9 - Elvis Presley Funeral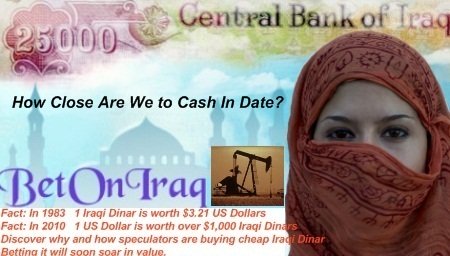 Friends and Family Say Goodbye

Click player to hear final coverage.


Thursday, August 18, 1977 - Elvis Presley Funeral - Final Notes
Grieving fans hoping for a glimpse of the singer's funeral procession line Elvis Presley Boulevard in front of Graceland mansion. Entire families with children in tow sit on cans and coolers waiting for the somber procession to leave.
And as they wait, their grief is deepened. Two teenage girls are killed nearby in an awful hit and run accident. A third woman is seriously injured.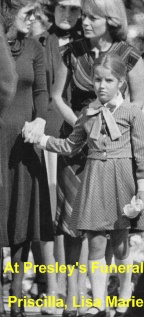 Late Thursday afternoon, private services are held at the mansion attended by relatives, politicians and show business friends. This evening, a huge crowd of people has gathered outside the Forest hill cemetery. Elvis is buried alongside his mother, Gladys Love Presley who died August 14, 1958 from heart failure.


Why Elvis Presley Was Reburied
Final Notes Forest Hill cemetery was not to be the final resting place for Elvis. Eleven days after his burial, an attempt was made to steal his body. On October 2, 1977 the remains of Elvis and his mother were reburied at Graceland.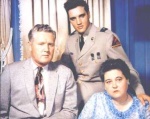 Elvis's father, Vernon Presley died almost two years later at age 77 on June 26, 1979.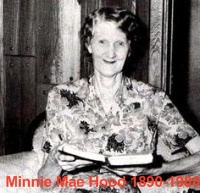 Now all three are buried along with grandmother Minnie Mae Hood Presley in the Meditation Garden just past the pool area at Graceland. After the death of Elvis, grandmother Minnie Mae continued to live at Graceland until her death at age 90 in May 1980.
Video tour of Meditation Garden where Elvis rests.
The Billy Mann Elvis Death Photo
Elvis Death Photo Billy Mann, one of Presley's cousins, was paid $18,000 to secretly photograph Elvis lying in state at the Graceland mansion. The picture appeared on the cover of the National Enquirer. It immediately became its biggest-selling issue of all time.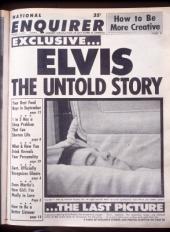 ---
Return from Elvis Presley Funeral to Home