Chapter 3 - How Did Elvis Presley Die?

"How did Elvis Presley die?"
That's the first question fans asked as they called radio stations. What happened to the 42 year old King of Rock & Roll?
Click player to hear hospital news conference.
Tuesday Night August 16, 1977
Tonight, tape recorders turn and cameras flash as reporters gather details of the initial autopsy from a statement being read by Dr. Maurice Elliott of Baptist Hospital.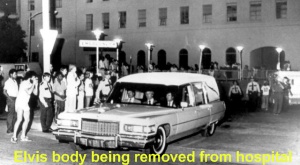 The autopsy started at approximately 6pm was completed around 8pm this evening. The corner reports that preliminary findings reveal the cause of death was cardiac arrhythmia due to undetermined causes. He indicates that Elvis had a history of mild hypertension and that there is some evidence of coronary artery disease. The corner stated that these could have been contributing factors to Elvis Presley's death but that specific cause may not be known for a week or two pending the completion of laboratory tests.
Reporters want to know more about rumors there may have been a drug overdose.
Elvis' Final Hours
Tuesday August 16, 1977 How Did Elvis Presley Die?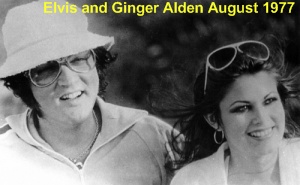 9:30 am: After spending a sleepless night Elvis heads for the bathroom. He is carrying a book by Frank Adams titled The Scientific Search for the Face of Jesus. On his way there his fiancé Ginger Alden calls out to Elvis. "Don't fall asleep in there." Elvis replies, "Okay, I won't." Those are believed to be his last words.
10:00am: Later determined to be the approximate time of Elvis' death.
1:30 pm: Ginger knocks on the bathroom door. She gets no reply. Upon entering, she discovers Elvis motionless, lying on the floor in front of the toilet. Ginger frantically calls out for help. Two of Elvis' associates, Joe Esposito, his road manager and Al Strada a security guard quickly arrive. Mr. Esposito calls for an ambulance.
2:56 pm: Elvis Presley is transported by ambulance to the Baptist Medical Center in Memphis.
Ginger Alden talks about her relationship with Elvis.
3:30 pm: Elvis is officially pronounced dead. It is estimated that the time of Presley's death was actually around 10:00am, about 30 minutes after he spoke with Ginger and entered the bathroom.

4:00 pm: Standing on the steps of Graceland mansion, Elvis' father, Vernon Presley tells reporters, "My son is dead."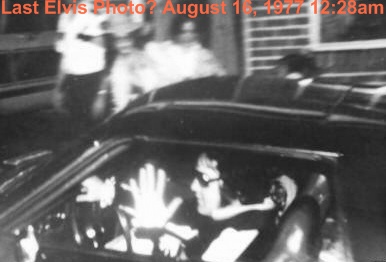 Next to Chapter 4
Live Reports - Fans at Graceland - Worldwide React
Special Note:How did Elvis Presley Die. What you are listening to are the radio and television news reports and the press conference at the hospital covering the autopsy report on how Elvis Presley died. You are hearing them just as we aired them Tuesday night, August 16, 1977. In the years since those reports aired, the facts and information may have changed. What you are listening to is what we knew at the time of Elvis Death.


---
Return from How Did Elvis Presley Die to Home Page